Arctium community, the time has come.
A few weeks ago, we announced the Arctium App, a brand new user interface that assembles all of the essential Arctium tools in one single place. This application will allow users to automatically download and update the Sandbox and Launcher, as well as allow the creation of customized loadouts for mods, personalised user settings and much more.
While most of what's described above is still in the works, Fabian and the guys have been working really hard to be able to give you, starting right now, the first public access to the Arctium App.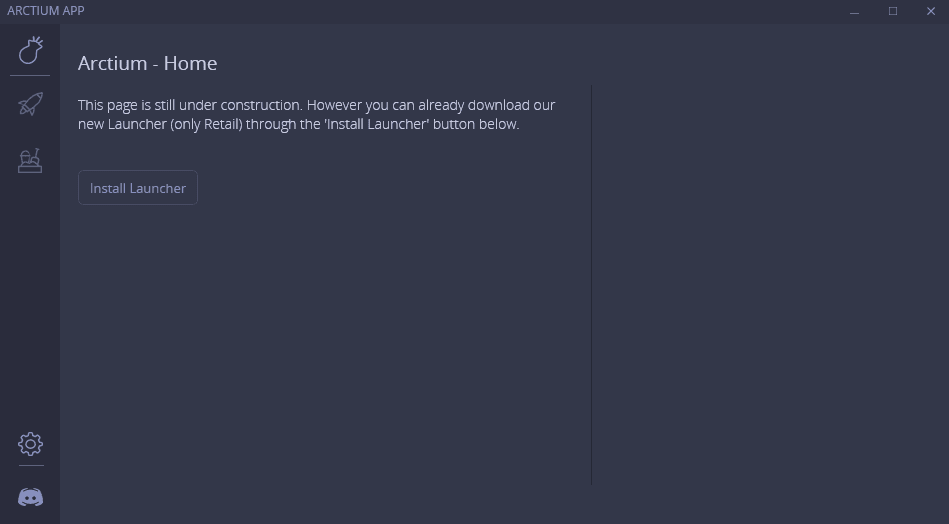 As previously mentioned, this app had many iterations and design changes already, and a lot of work has been done on the backend to support all of the new download/update features for users all around the world. But with this first alpha version, users should be able to download and use the updated custom files Launcher for Shadowlands !
How to download
To download the app, simply visit the Arctium App Link right next to the Downloads Link at the top of this site and click Download. (We prepared a standalone Version for People with bad internet connections to make it easier for them to download the app.) After that make sure you read our EULA and click Accept & Download, it's easy as that!
Your anti-virus might freak out. But don't worry. This is because of the way the app was coded and how it can modify game files and such, make sure to either deactivate it temporarily or add an exception.
Once it is downloaded, simply double-click the installer and whoosh, it's already done!
My app is not in my directory, where is it?
The way the application works is the same way used by Microsoft to make it's Microsoft Store apps, which means the app is now downloaded in the same spot as your apps from the Windows Store are. It is not yet possible to chose an installation directory for the app. To access it, simply search for the "Arctium App" in the Windows search bar, and add a shortcut to it in the Task Bar if needed.
What to expect
This is still alpha!
The first thing you'll notice when executing the app for the first time is that there is not much to it. This is normal, the primary objective of this first release is to provide people with an updated Shadowlands Launcher, as well as public testing of the download and update system for the launcher and the app itself.
When an update pops in, it will automatically be displayed to all users of the app like an official application update, similarily to this: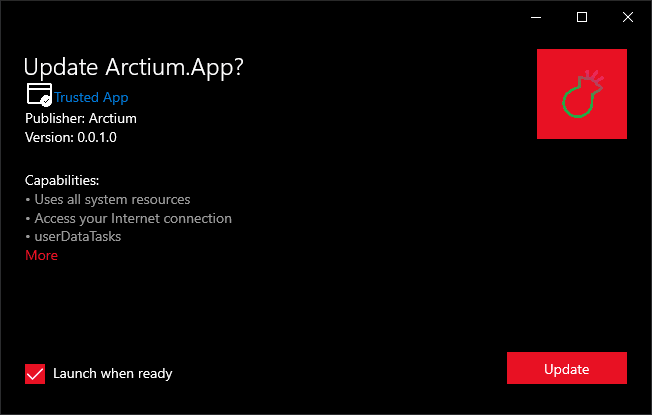 Just click update, and the app should restart by itself after being updated.
Please remember that this is the first time we're ever testing this new system, so there will be bugs. But there also will be frequent updates on our side to make sure every version gets better and better until we reach a comfortable state where it is viable to add new features. Like our other Tools, more extensive customization options and much more.
This is just the Beginning
This first version of the App is gonna be extremely helpful to us to help us understand what are the major design/UI flaws, unclarities and ambiguities. We are especially thankful to everyone who gives thoughtful and serious feedback, so if there is any comment you have for us, post it in #app-feedback on our Discord Server. 😊
Known issues
Setting being heavily under construction.
App scaling option re-centering the app every time you click it
Sandbox: Not available yet
Home page: Still under construction
Thanks you for your patience!
We know many of you have been dying to test their mods on retail again, and we know it's been a rough few weeks for some. We hope that this first version of the new App/Launcher infrastructure will be working properly, and we are going keep you updated here, or directly on Discord, in the #announcements channel. ❤
Much love, 💋
The Arctium Team